ExpertOption is award winning platform with trading on Stocks, Commodities, Currencies, ETF. To begin with, ExpertOption is the leading broker in its industry. It provides traders with all major requirements such as: reliability, profitability and of course, features!
Features of the platform:
$10,000 Free demo account;
$10 min deposit and $1 min investment;
24/7 multilingual customer support;
4 chart types, 8 indicators, 100+ assets and multiple trend lines;
Bonuses (no limist for withdrawal from real balance);
CashBack (traders can earn additional money during trading);
Social Trading (traders can watch and copy deal from other traders);
Mobile and desktop apps for trading;
Fast withdrawal and fast deposit.
ExpertOption Platform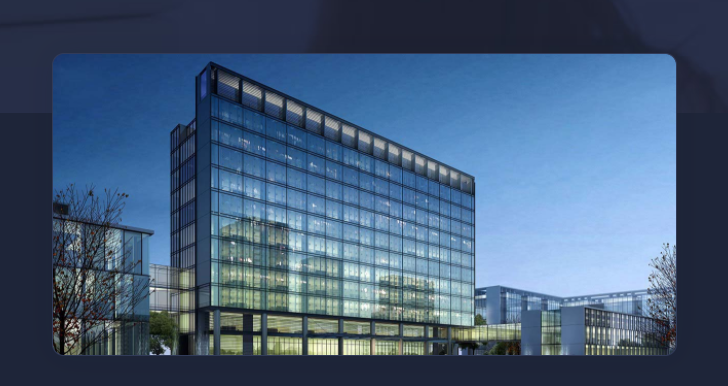 Most importantly, every trader is looking for a reliable and profitable broker to trade on. And, here comes the ExpertOption which can satisfy all client's needs:
Clients: Providing best customer service is our primary value. More than 100 account managers are focused on needs of our clients

Reliability: Being industry leader we provide our clients with extra solidity. We are doing more than anyone else to satisfy needs of our clients.

Simplicity: Everybody can become a trader with our easiest to use trading platform. ExpertOption is available on all modern platforms: Web, Windows, MacOS, iPhone, iPad and Android.

Speed: We provide fastest trading using cutting-edge technologies. No delays in order executions and lags in user interface.
Mobile App

Expertoption platform offer trading for iOS, Android, macOS devices. Trader can install iOS app from iTunes and Android app from Google Play. Web version can be used from official website. Nowadays, it is highly important to be able to trade at any time and anywhere you want. That's why ExpertOption provides a variety of devices you can choose from:
Windows – from XP and higher;
MacOS – from Mavericks and higher;
Android – from 4.4 and higher;
iOS – from 8.2 and higher;
Web and mobile web versions.
Most importantly, ExpertOption mobile apps are Top Finance Apps in 47 countries all around the world according to App Store and Google Play rankings. What is more, they are Full Featured Apps which means that they provide all trading platform's functionality. Moreover, the broker's apps were downloaded more than 10,000,000 times which makes them the fastest growing mobile trading apps ever!
Talking about ExpertOption Desktop apps, they are the best for market analysis because of various customisable analytical tools. These apps offer the highest possible performance since they are fast and efficient on any device. Also, instant access to trading is offered because of the convenient and native user experience.
Nevertheless, the trading platform itself is working seamlessly at any device you put it on. Also, keep in mind that there is also a web version available for PCs and for mobiles.
Registration

How to register Expertoption account?
Visit official website or launch mobile app,
Click on menu "Real account",
Enter your E-mail and password or click on Gmail & Facebook button,
Click on "Open account" menu.
Login

How to login expertoption account?
Visit official website or mobile application,
Click on "Login" menu,
Enter your E-mail and password or click on Gmail & Facebook button,
Click on "Login" button.
Add Funds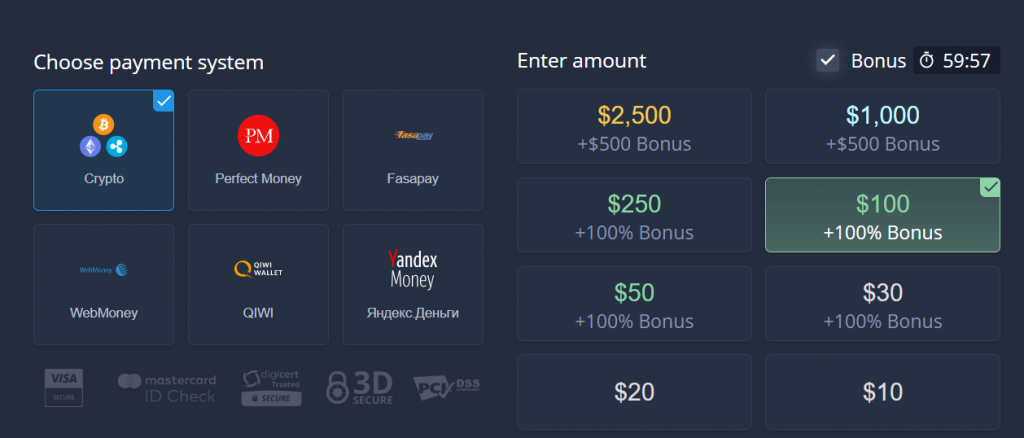 How to add funds to account?
Click on "Deposit" button,
Select payment method,
Select amount of deposit,
Click "Continue" button.
ExpertOption Withdraw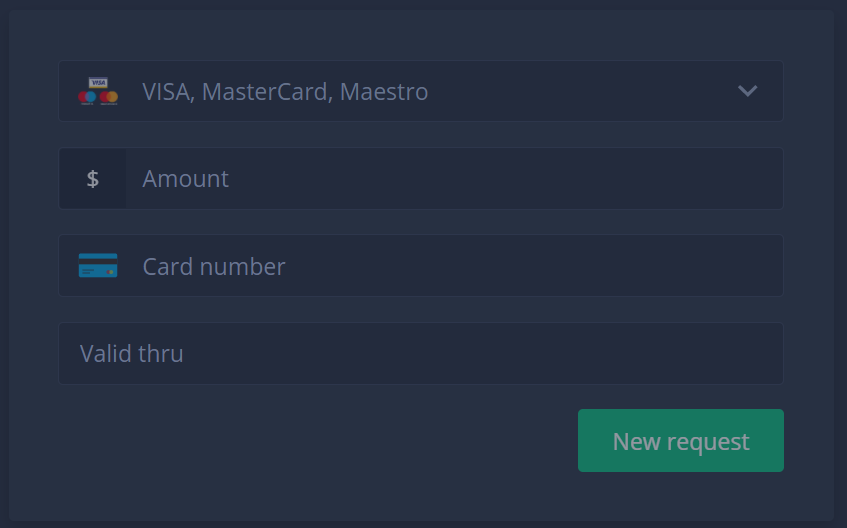 How to withdraw money from ExpertOption platform?
Click on "Finances" menu,
Select withdrawal method,
Select amount for withdrawal,
Click on "New request" menu.
ExpertOption Verification

ExpertOption Verification is an easy process which you will need to complete after your first deposit. To successfully verify your account you will need to visit the "Profile" – "Documents" page. Keep in mind that this page will be inaccessible if you didn't make a deposit yet. So, the following steps are needed for verification:
ID or Passport – You will need to upload a high quality color photo or scan of your document. Make sure that photo or scan captures the whole document.
Bank card – You will need to upload a high quality color photo or scan of your bank card which you used for the deposit.

After all this is done, press on the blue 'Send' buttons to upload your documents. The approval of your documents will be made during 24 hours of a working day. Once approved, you will receive an email and you will see green boxes in your trading account as well.
Download ExpertOption Apk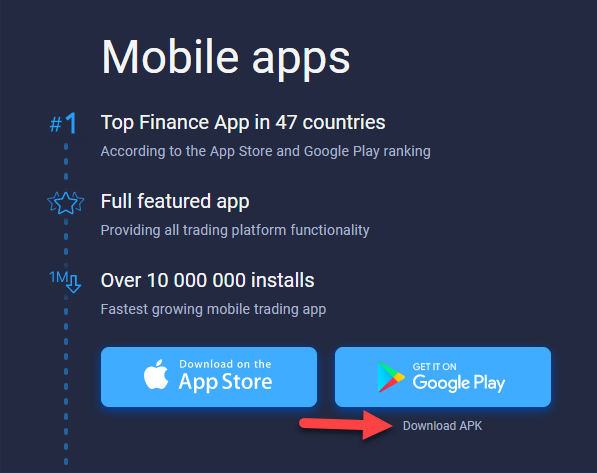 ExpertOption APK download is also available for those who have an Android phone. To find this APK file you will need to visit the homepage of the official website of the broker. After that, press on any devices under the 'For all devices' inscription. Finally, at the 'Mobile apps' section you will find this 'Download APK' button underneath the Google Play icon.
Social Trading

ExpertOption Social trading is an amazing feature which can boost profits of novice traders. Everything is simple here, you check if most of the people 'BUY' you do the same. Consequently, if most of the traders 'SELL' you do the same as well. Of course it is better to make your own decisions while investing, but social trading is just the right thing to start your journey.
Contacts & Support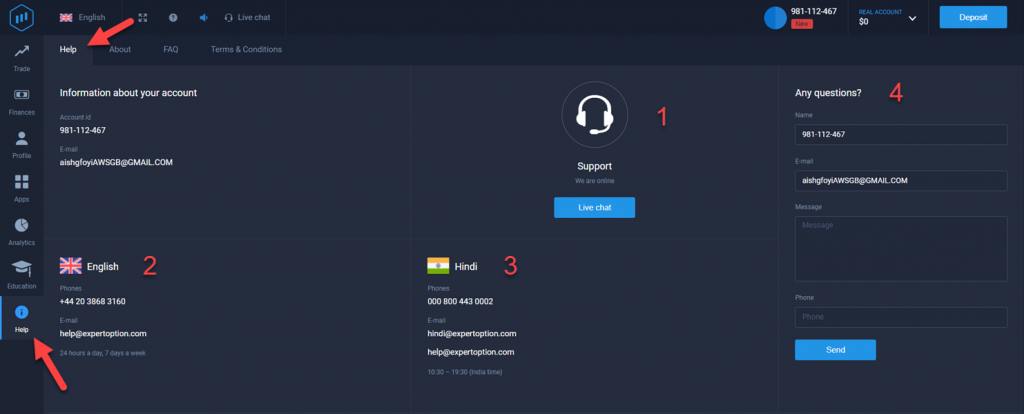 ExpertOption Support is literally the best possible help center trader will ever find. You can visit the support's page by going to 'Help' – 'Help'. If we even won't look at the Education or FAQ sections of this broker, we will still find many helpful services. For instance:
Online chat – here traders can receive fast answers on easy questions;
Telephone support – here you can talk more deeply about your issues;
E-mail support – here you can resolve big issues for example with payments;
Contact form – just another way of contacting the support of the platform.
If you will have any troubles with your account or maybe you will face some difficulties with trading. Don't hesitate to contact the support center of ExpertOption, they will always help you!
Scam / Fraud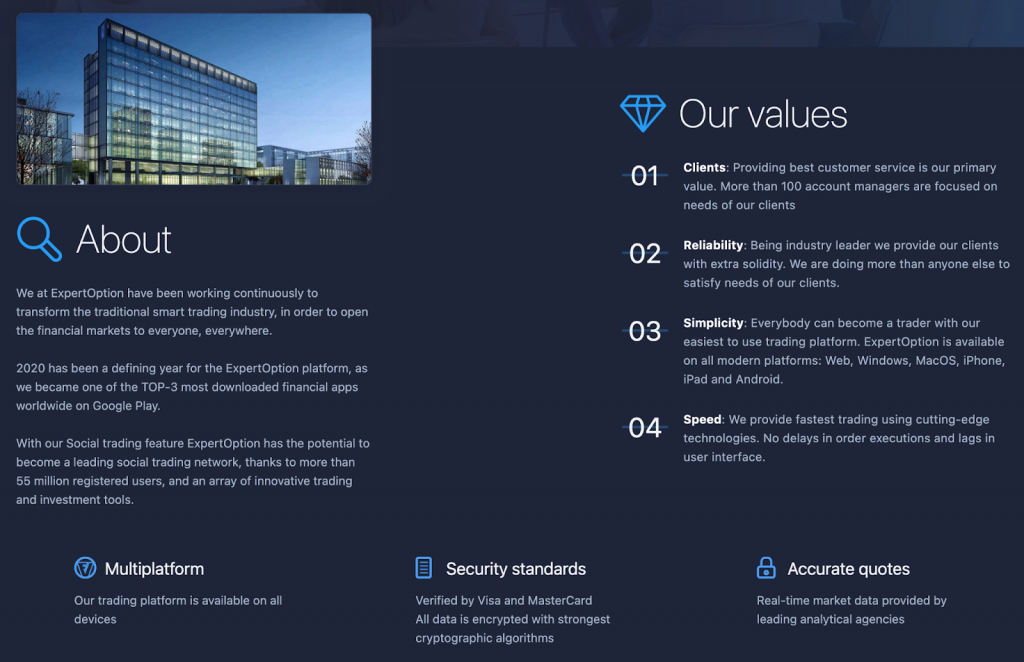 ExpertOption Scam or Fraud. This is what you can find at some places on the internet. However, nowadays the scam brokers don't live for long. In about just 1-3 month the scam platform will be closed by the government. ExpertOption provides services to it's clients since 2014 and has millions of positive reviews. Negative comments are usually from the competitors and the other half from cheaters who wanted to steal money from the company and did not succeed. Thus, we can conclude that ExpertOption is NOT a scam broker at all.
ExpertOption values:
Clients – More that 100 account managers are focused on all of client's needs;
Reliability – Every client is provided with extra solidity;
Simplicity – The most modern and easy platform which is available for any device out there;
Speed – Cutting-edge technologies provide the best and fastest trading experience.
Blocked Account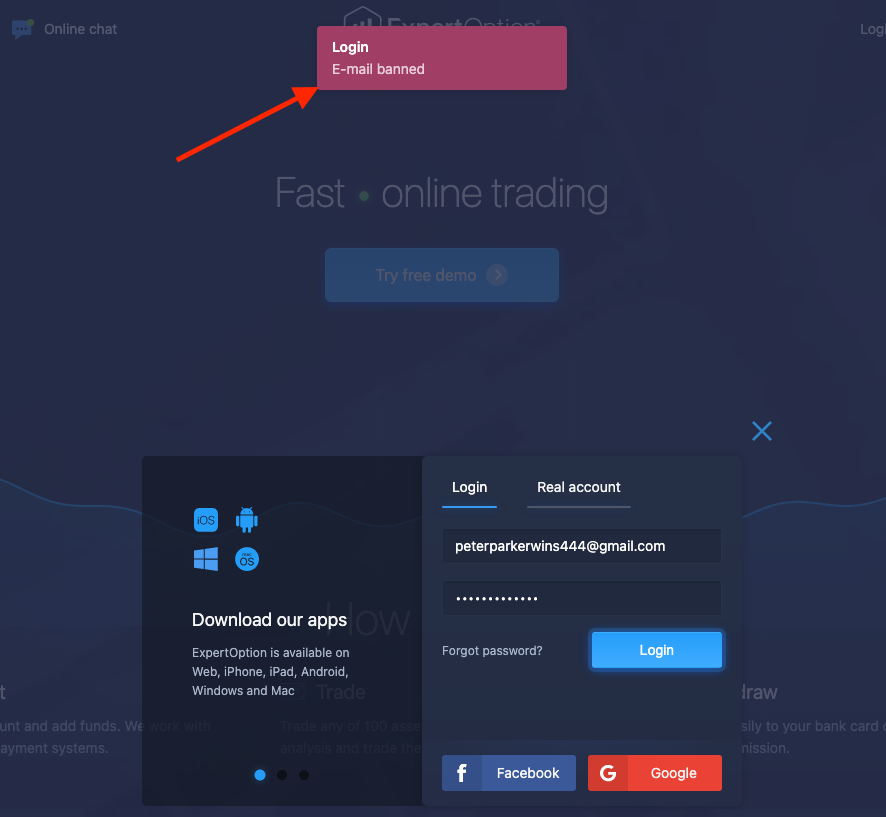 Firstly, ExpertOption will never block a trader's account without a reason. Secondly, if the broker blocked your trading account and you are sure that you didn't violate any of the platform's rules – contact the support. You will need to explain your situation in detail and they will help you with it.
Above all, to avoid an ExpertOption Blocked account, make sure to read the rules of the broker before you will start trading.